We're pleased to offer the following services at Muddy Creek Animal Clinic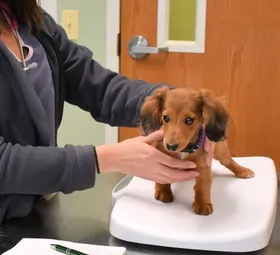 Appointments
Our appointment book is computerized which allows us to efficiently make appointments for you and your pet. Our receptionists and team will attempt to accommodate all requests to the best of our ability. If you feel you have an emergency with your pet, please call us to make sure we have staff available for your situation and we will advise you on your particular emergency.
Drop Off Service
We know how busy family schedules can be these days. For your convenience, we offer drop off services for established patients needing routine visits and minor illnesses at no additional cost to you. Simply schedule a day and drop off/pick up times, fill out our drop off form and we will take care of your pets needs while you work, shop, or run errands.
Feline and Small Mammal Boarding
Going out of town? Let your feline family members stay with us! We accept both healthy cats and cats with special needs. We can also accommodate small mammals such as rats, mice, guinea pigs, hamsters and more. Pictures of our Cat Condo Corner Room can be seen by visiting the boarding category from the drop-down menu under the Services tab.
Emergency & Urgent Care
We have a veterinarian and personnel on duty during posted business hours who are trained and equipped to handle any urgent care your pet has. We reserve several time slots a day for same day urgent visits. Priority is given to established patients that we see regularly (yearly) and acute illnesses that require immediate attention. If you ever feel that your pet needs emergency treatment do not hesitate to call.
If we feel your pet will require after hours care, intensive care, immediate surgery or if all appointment times are full, we will refer you to an emergency department:
PVSEC (412-366-3400) Pittsburgh Veterinary Specialty & Emergency Center, 807 Camp Horne Road, Pittsburgh, PA 15237. Click this link to reach their website https://bluepearlvet.com/emergency-medicine/
AVets (412-373-4200) 2674 Monroeville Blvd, Monroeville, PA 15146. Click this link to reach their website https://www.avets.com/
If we feel your pet needs to see a veterinary specialist, we will coordinate a referral to one of the specialty veterinary hospitals in our region.
Grooming
We offer grooming services! Our groomer is available by appointment for bathing and clips. A bath includes a brush out, ear cleaning, toe nail trims, anal gland expression, a shampoo bath and blow dry. Additionally, our technicians provide services for only toe nail trims, and/or anal gland expressions at reasonable prices.
Types of Pets Seen
Dr. Karner has a variety of experience with many species. We can care for many types of pets:
Dogs
Cats
Rabbits*
Pocket Pets(rats, mice, guinea pigs)*
Small Farm Animals(sheep, goats)*
*Please call for more information on available services for these and other species.
Surgical Services
Our veterinarians are experienced with a wide variety of soft tissue surgical procedures. Our surgeries are usually scheduled for Monday, Tuesday and Thursday mornings, with most patients going home the same day. Please visit the surgery section under the Services tab at the top of this page for more details.
Dentistry
Dental cleanings are considered part of our surgical services. Once one of our veterinarians has examined your pet, we are happy to provide an estimate for your pet's dental needs. Please visit the section on dentistry found under the Services tab at the top of this page.
Home Euthanasia
We understand it is never easy saying good bye to a family member, even when it is obviously the best decision. Certain circumstances such as fear of travel or the vet office, inability to walk or need for family privacy make home euthanasia a good option for your pet. Dr. Karner has been a proponent of gentle end of life care in the comfort of home. Please visit the section under the Services tab for more details. (Covid19 update: we are temporarily limiting this service to our active clients only)