Prescription In-Clinic Refills (pick up at the clinic), please use the form above. Please allow a full clinic business day for prescriptions to be filled.
Now Available!
Prescription On-Line Ordering - VETSOURCE
Click the logo above to order your medication through our on-line pharmacy, Vetsource. You will have the option of single orders or automatic refills. Keep in mind that all products order from our pharmacy have a 100% unconditional guarantee that is not offered elsewhere.
Free shipping is being offered on all auto-ship orders. This is great for flea and tick treatments, heartworm preventative, or any year-round medications. Imagine how convenient it would be to have your pet's flea treatment delivered each month exactly when you need it. Use the promo code Friends15 to save an additional 15% off your first order!
---
Purina Prescription Diets - Order Fast from Purina's VetDirect Portal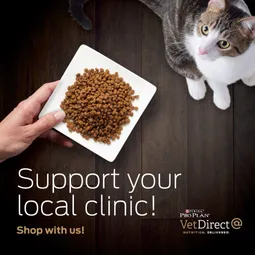 Our doctor will confirm your order and Purina will ship it right to your home. It is quick, easy and convenient. Check out the specials for Purina's probiotic, Fortiflora - a great way to support your pet's gastrointestinal health. We will be emailing our Purina diet customers additional special discounts. There is also the availability to order non-prescription Pro-plan diets!
Click the logo below to order your Purina prescription diets.
---