Here you'll find everything you need about Muddy Creek Animal Clinic and how we can help you. We have online forms for everything related to our Butler veterinarian clinic, and information, including a virtual office tour and what to expect on your visit.
Our office is conveniently located on Route 8, north of Butler city.
Our friendly, knowledgeable staff are always ready to provide excellent care for your pet(s).
The front office reception has an educational display with information on seasonal products and manufacturer's specials. Additionally, we invite you to enjoy a hot beverage or visit with our resident parrot, Mango.
All pets can expect to have their weight, temperature and other vitals recorded at every visit.
Our office can perform many lab tests while you wait. For more extensive lab testing, we will carefully collect, package and ship samples.
Our office can offer surgical services including spay, neuter, dental cleaning/extractions, and mass removal.
Boarding services are available for cats and/or small mammals. We do not offer dog boarding at this time.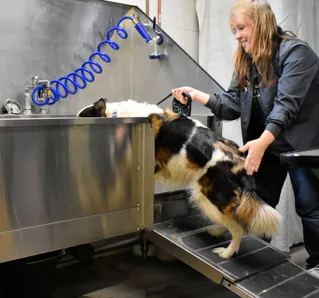 We offer grooming services for dogs and cats. Our spa tub has a slip-resistant ramp, perfect for our larger and elderly canines.
We look forward to meeting you and your pet(s)!
Download and Print New Patient Form