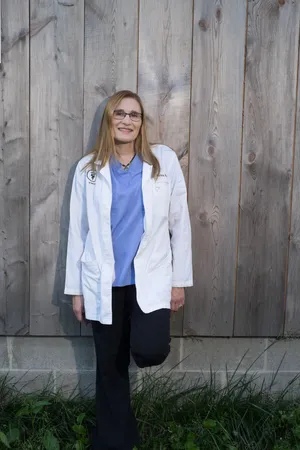 Veterinarian/Owner
Barbra Karner, VMD
Dr. Karner grew up in Hopewell, but has lived and worked in the Butler area since graduating from the University of Pennsylvania, School of Veterinary Medicine in 1998. She was in equine practice for 3 years. Shortly before having her first son, she entered small animal practice where she remained for 7 years. In 2008, Dr. Karner accepted the Medical Director position at the Vet Tech Institute in Pittsburgh. She directed this program for 6-1/2 years. Aside from general administration duties, her responsibilities included caring for a large number of dogs, cats, rabbits, farm animals and rodents. She instructed numerous courses, including both small and large animal surgery and medicine. Upon leaving the Vet Tech Institute, Dr. Karner joined a home euthanasia service for pets of all types. She feels that humane, dignified treatment of dying pets is sometimes overlooked in veterinary medicine and at home care during this time is best for the pet and the family. Dr. Karner continues to provide in home euthanasia services, but wanted to offer more for her clients. With much encouragement from family and friends, she made the decision in 2015 to open Muddy Creek Animal Clinic, LLC.
Outside of the office, Dr. Karner is heavily involved in the Butler County 4-H Livestock programs. She also volunteers her time and knowledge to help support the Moniteau Academic Decathlon Team. She is President and founding member of Steel City K-9 Emergency Response team, a 501c3 organization dedicated to finding the missing. She and her now retired Rhodesian Ridgeback, Epi, earned their trailing certification in 2014 as members of the International Police Work Dog Association. She and Epi have responded to numerous calls to assist in searches for missing people. Dr. Karner is also a member of Meridian United Presbyterian Church.
At home, Dr. Karner lives with her husband, Tim, 3 sons and 1 daughter. The family shares their 6 acre farm with their prized herd of Boer goats, cows, chickens, 3 cats, 4 dogs and a frog. If she ever has free time, she likes to walk her dog and ride her bike.
---
Veterinarian - Kathleen Medarac, DVM

Dr. Medarac is a graduate of Mississippi State University College of Veterinary Medicine and has a deep passion for animal health. At home, she is surrounded by a menagerie of pets including a dog named Amos, a cat, a bird and two horses. Her hobbies include spending time with family, her pets, Bible study, horseback riding, dancing, and reading. Her expertise makes a difference in the lives of her pet patients, as well as their human families.
Technician Supervisor - Theresa Cuffin, CVT
Theresa is our Technician Supervisor and Certified Veterinary Technician who has been with us since she graduated at the top of her class from the Vet Tech Institute in Pittsburgh, December 2015. Theresa lives in Volant with her family, dogs, horses, cats, ducks, chickens and rabbits. She really enjoys working in surgery and helping people with new pets. Theresa passed the national board exam in March of 2016. This is a very difficult exam which she passed on the first attempt! She is licensed by the state of PA as a Certified Veterinary Technician. She loves to share information about the animal care field and has given presentations to the local Girl Scout Troops. She is a real asset at Muddy Creek Animal Clinic!
Veterinary Technician, Emily Browne

Emily is a 2022 graduate of the Vet Tech Institute in Pittsburgh and our newest member of the team. She has known her whole life she wants to work with animals. Years ago, she took the family cat to the hospital where they showed her around and explained the roles of veterinary technicians. This was the first step in identifying her career in the vet-med industry. Emily is looking forward to continuing her education and gaining some experience with exotic animals. We enjoy having Emily at Muddy Creek Animal Clinic!
Receptionist, Serena Johnston

Serena is our receptionist and the smiling face that greets you in our front office. With over 20 years of experience in the veterinary office, she is able to make you and your pet feel welcome and comfortable. She also provides grooming services for our patients one day a week. She claims the best part of her job is the relationships she makes with the people and pets of Butler County. Once on vacation in Florida, she was recognized by one of her Pennsylvania clients! Serena has a kind and friendly way of giving excellent service, we are so glad she works here.
Veterinary Assistant/Receptionist, Carrie Altman

Carrie has a real love animals and is able to handle assisting in room exams in addition to keeping our schedule well-balanced. Carrie's pets include two cats named Fat Boy and Max, as well as a German Shepherd named Dakota. She loves adventure and the outdoors. Her favorite pastime is going to zoos, and her favorite one is the Cleveland Metroparks Zoo. She has the best vacation photos! She has a son named Logan and we are excited to have her on our team!
Kennel Assistant, Ivie Scott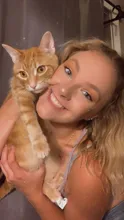 Ivie is a 4-H alumni and an active part of the Moniteau FFA program which includes students who aspire to careers as teachers, doctors, scientists, business owners and more. She has two dogs at home who are at opposite ends of the size spectrum; Paco (a Chihuahua mix) and Xena (a Great Dane). Her other pet is a cuddly cat named Gary (pictured). Ivie is also active in showing and marketing Boer goats at local fairs. Her favorite part of working at Muddy Creek Animal Clinic is being able to share her passion and love for all kinds of animals. In her spare time, she is studying the Veterinary Technician program through Penn Foster Distance Learning Program. Keep your eye on Ivie – she is going places!