Please visit this page monthly for special announcements and current specials.
Announcements:
Please note our upcoming holiday hours:
Thursday, November 24 for Thanksgiving - closed
Friday, November 25th 9am - 12noon
Monday, December 26 for Christmas - closed
Monday, January 1 for New Years
Questions about the Coronavirus?
This link to the CDC's website will have the latest information on the Coronavirus and Animals. CDC Coronavirus and Animals
We are encouraging all of our clients to take extra precautions and stay calm during this time. Please feel free to send us your questions or concerns. Prescription refills can be called in to the office, paid for over the phone, and delivered to your car in the parking lot. Just call us!
(Covid19 update: we are currently limiting home euthanasia visits to active clients only.)

Pet Safety Resources - Pet Poison Helpline 855-764-7661 [email protected] (fee-based service)

---
CONGRATULATIONS to Theresa Cuffin, CVT on her promotion to Technician Supervisor!
We are looking forward to increasing our clinic's efficiency with her management skills.
Look for future announcements as we add a few new faces to our team.
---
Happiness is healthy teeth! Schedule a dental check-up for your pet and learn about the many ways you can improve your pet's health by taking care of their dental hygiene. We offer samples - this cutie is taking home an Oravet dental chew sample!
---
STAFF ADVENTURES IN 2022:
The staff of Muddy Creek and Suburban joined
forces to celebrate with a baby shower for our
technician, Hope! We are looking forward to
a little bundle of joy arriving before snow flies.
The staff recently gathered together in spring to socialize and exercise some crafting skills. We had a great time creating some pretty glass mosaics while supporting a worthwhile cause: Hearts 4 Haiti's free medical clinic in Mombin Crochu Haiti. Here's a look at some of the pretty glass creations.
---
Elise Goldman, a local artist, created a beautiful display in our front office. It is embellished with photos of the staff with their pets. We hope that all of our clients and patients feel welcomed like family.
---
Muddy Creek Animal Clinic sponsors local youth programs

We are proud to sponsor the Keystone Goat Producers Association, Inc. youth show this year. These programs improve our local agriculture and focus on educating the youth in our communities.
---
Goats!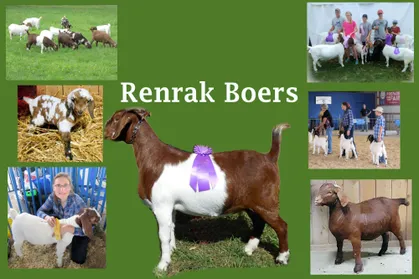 Did you know that Dr. Karner also raises and shows Boer goats? Renrak Boers raises and sells Boer goats for show, 4-H, breeding and meat. They are members of the American Boer Association and uphold the standards for high quality show goats. The herd includes both traditional and colored stock. The herd is CAE and Johne's negative. Plus, we love seeing caprines and camelids at the clinic!
---
SNACK ATTACK?

Have a hard time believing that your dog would like healthy treats? Check out Billie in the video below, showing us how much dogs actually love a healthy snack!